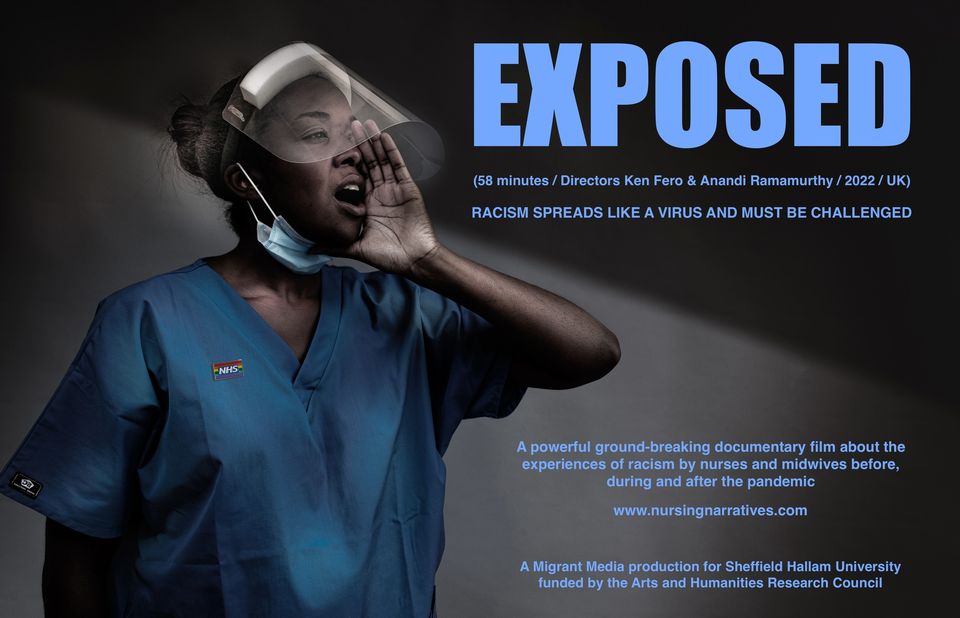 Exposed & Talk "ANTI-RACIST HEALTH CARE MANIFESTO"
Documentary: EXPOSED + Q&A with Director Ken Fero
Time: 14:30
Place: Panora
'Exposed' is a groundbreaking documentary that combines the stories of 19 Black, brown and migrant nurses and midwives to speak about their powerful experiences of racism before, during and after the pandemic. If you want to organise a screening of the film please send us the details of date, time and location so we can let people know about opportunities for people to watch, share and discuss the issues that have come out of the film, as well as what action can be taken.
Talk:
ANTI-RACIST HEALTH CARE MANIFESTO
Time: 16:00-16:45
Place: Panora lobby // Language: English
This Discussion between nurses from Great Britain and Sweden will focus on the question of how racism has escalated during the pandemic healthcare and what can be done about it.
Med utgångpunkt i filmen Exposed och manifestet Anti-Racist Health Service Manifesto framtaget i England, diskuterar sjuksköterskor från England och Sverige, hur rasismen eskalerat under pandemin inom hälso- och sjukvården och hur manifestet kan översättas till en svensk kontext.
https://nursingnarratives.com/anti-racist-manifesto/
Participants:
Nandi Zulu, midwife and doula, Malmö
Zainab Jones, nurse and education officer, Malmö
Organizers: Nordic Labor Film Festival in collaboration with ARF, ABF Malmö, AFR- Panafrican Movement for Justice and Folkets Bio Malmö/Panora.